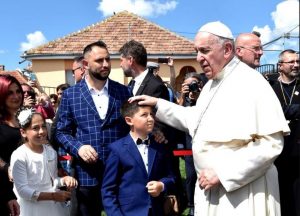 Slika preuzeta; REDI – Roma Entrepreneurship Development Initiative
Pope Francis to a Roma community in Romania: "I ask for forgiveness on behalf of the Church, the Lord and to you for the moments when, in the course of history, we have discriminated you"
The Pontiff sovereign came to the Greek-Catholic Roma community in the "Barbu Lăutaru" neighborhood of Blaj.
Pope Francis entered the church where he was gladly welcomed by the people. The Pope spoke with some children in the worship place and gave them the blessing.
Pope Francis sent a sensitive message, with great significance, talking about discrimination and making a comparison with Cain and Abel's parable.
"I still have a weight on my heart. It is the weight of discrimination, segregation and mistreatment suffered by your communities. History tells us that neither Christians nor Catholics have been strangers to this great evil. For this I would like to ask you for forgiveness. I ask for forgiveness on behalf of the Church, the Lord and you for the moments when, in the course of history, we have discriminated you, maltreated or looked in the wrong way, with Cain's and not with Abel's eyes. We did not know how to recognize, cherish and defend you in your specificity, the Holy Father said.